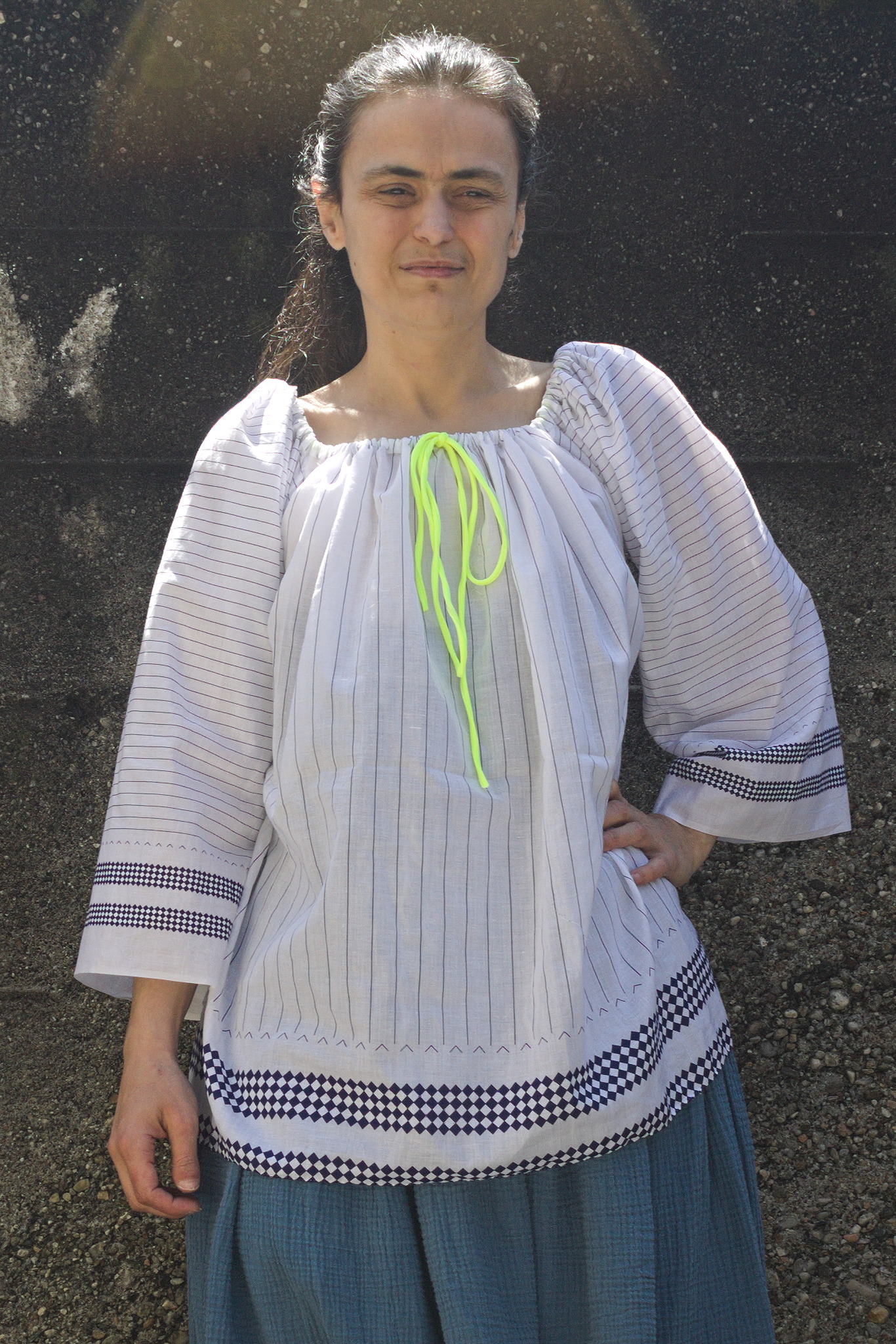 Since some time I've been thinking about making myself a top or a dress with a wide gathered neckline that can be work at different widths, including off-the-shoulders.
A few years ago I've been gifted a cut of nice, thin white fabric with a print of lines and lozenges that isn't uniform along the fabric, but looks like it was designed for some specific garment, and it was waiting in my stash for a suitable pattern.
And a few days ago, during a Sunday lunch, there was an off-hand mention of a dress from the late 1970s which had an elastic in the neckline, so that it could be optionally worn off-the-shoulders.
And something snapped in place.
I had plans for that afternoon, but they were scrapped, and I started to draw, measure, cut rectangles of fabric, pin and measure again, cut more fabric.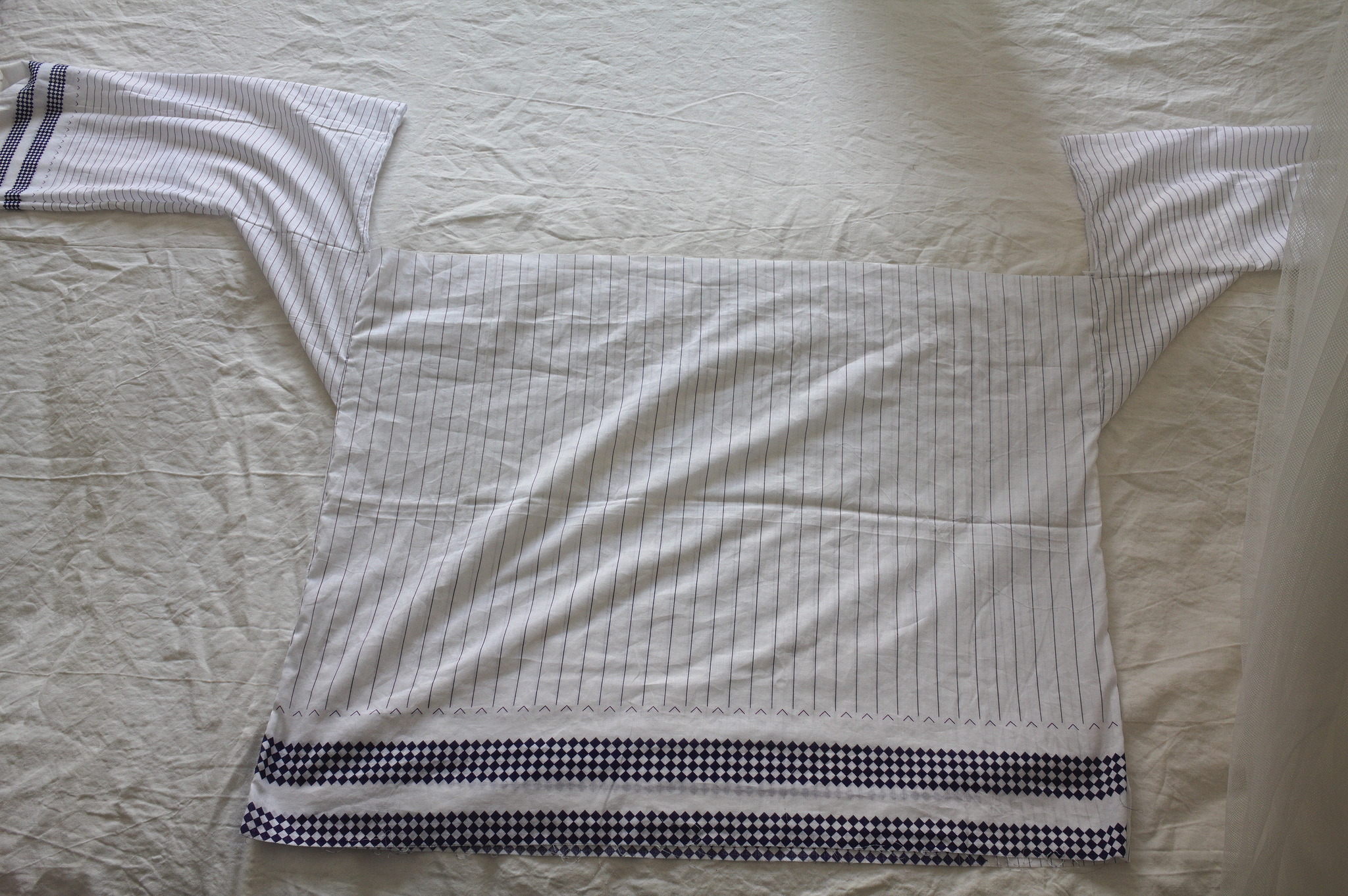 two rectangular tubes for the sleeves laid so that they meet the body just at the corners, and a triangle (a square gusset folded on the diagonal) joins them to the body.
I decided on a pattern made of rectangles to be able to use as much fabric as possible, with the size of each rectangle based mostly on the various sections on the print of the fabric.
I've made the typical sleeves from a rectangle and a square gusset, and then attached them to the body just from the gusset to keep the neckline wide and low.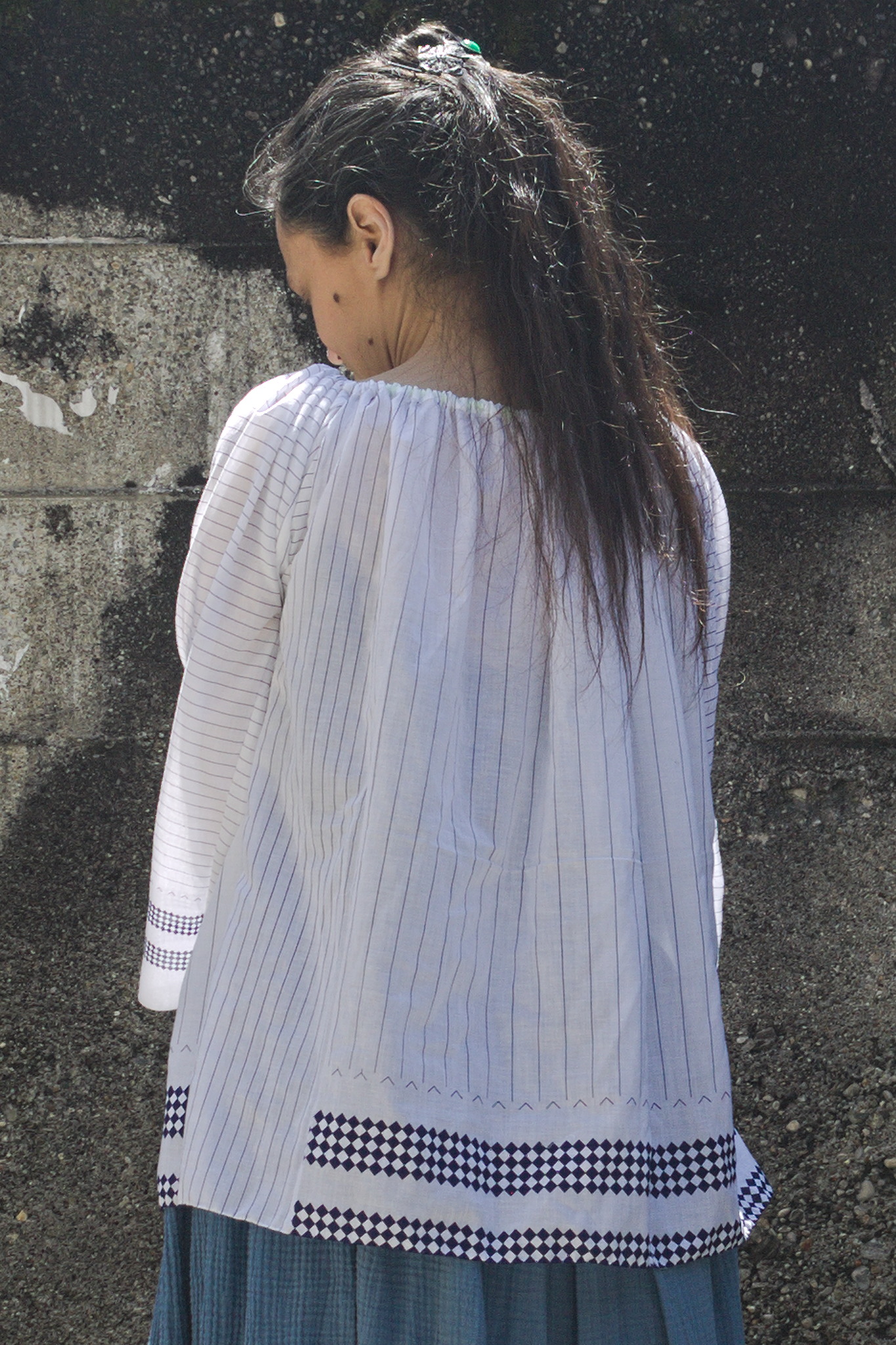 The part of the fabric with large vertical stripes had two different widths: I could have made the back narrower, but I decided to just keep a strip with narrower lines to one side.
The fabric also didn't have a full second strip of lozenges, so I had to hem it halfway through it.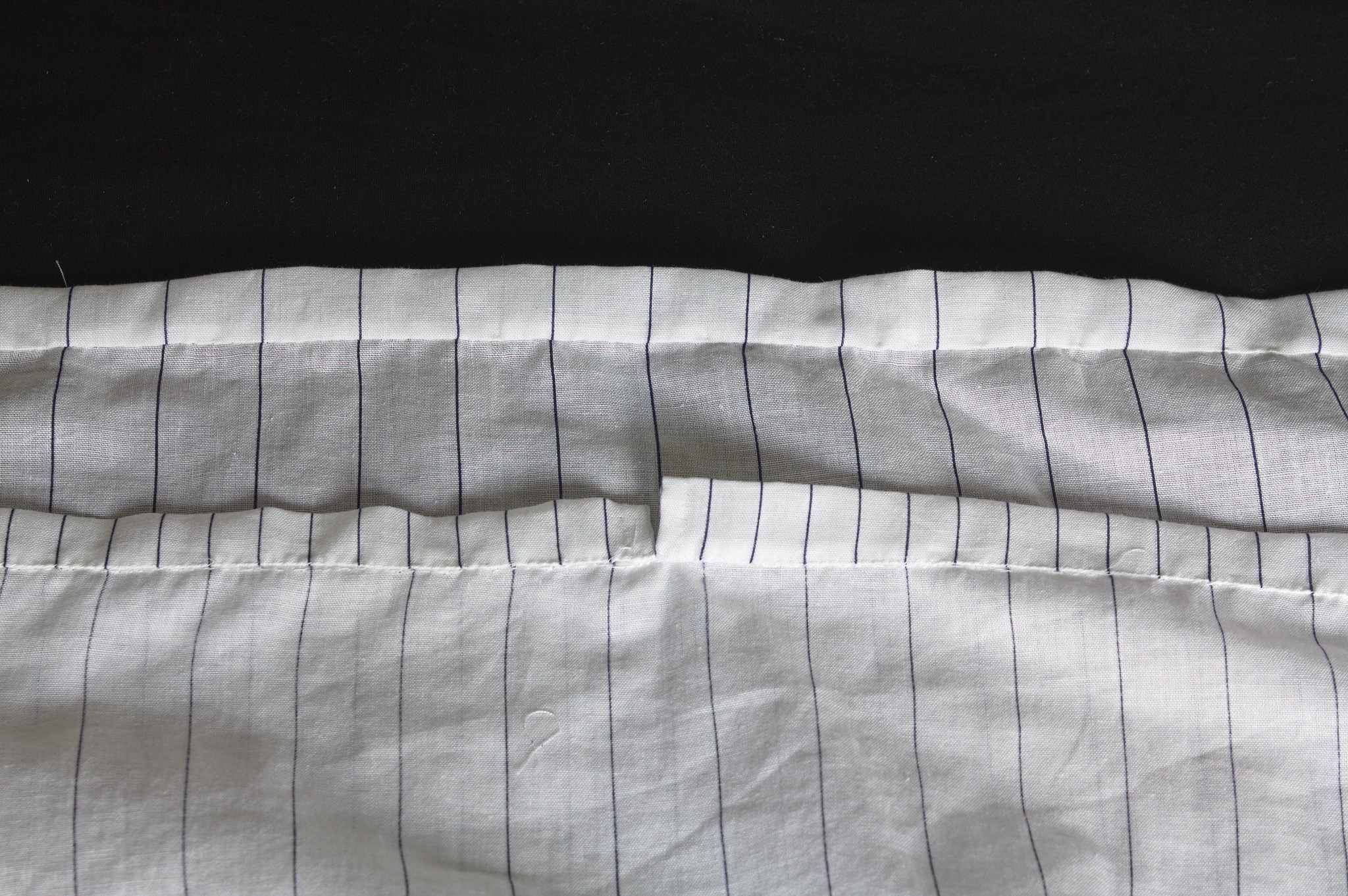 The casing for the elastic was pieced from various scraps, but at least I was able to match the lines on the center front and back, even if they are different. Not that it matters a lot, since it's all hidden in the gathering, but I would have known.
And since I was working on something definitely modern, even if made out of squares and rectangles, of course I decided to hand-sew everything, mostly to be able to use quite small sewing allowances, since the fabric was pretty thin.
In my stash I had a piece of swimsuit elastic that feels nice, looks nice and makes a knot that doesn't slip, so I used it. It's a perfect match, except for the neon yellow colour, which I do like, but maybe is a bit too high visibility? I will see if the haberdasher has the same elastic in dark blue, but right now this will do.
It was a quick project anyway: by the end of the working week the top was finished; I think that on a sewing machine it would be easy to make it in a day.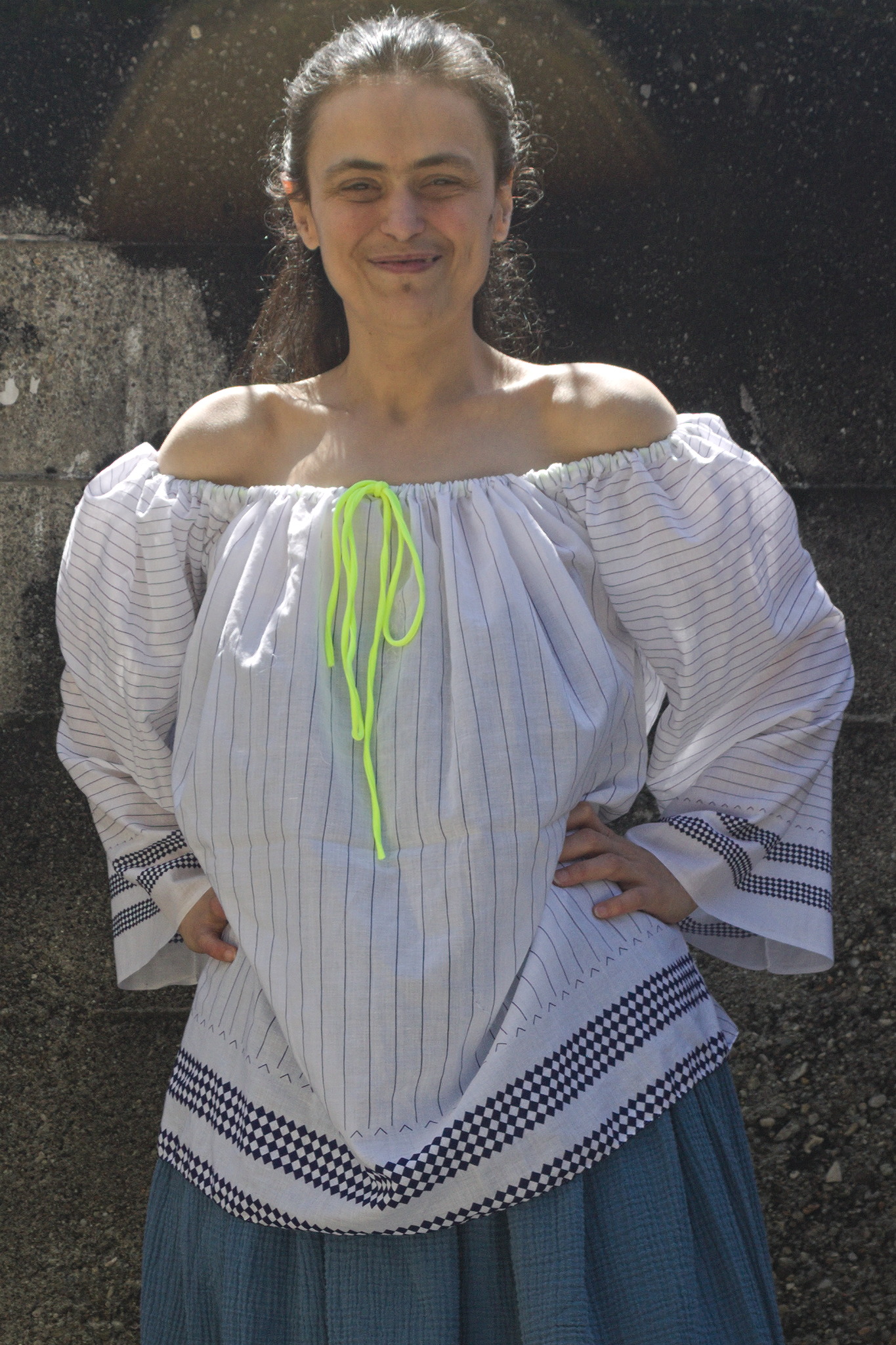 And it can be worn off the shoulders! Which is something I will probably never do in public (and definitely not outdoors), but now if I wanted I could! :D
As usual, the pattern (for what pattern there is) and instructions are on my pattern website under a #FreeSoftWear license, and I've also added to the site a tip on how I use electrician fish tape to thread things through long casings