Posted on November 4, 2023
Thanks to All Saints' Day, I've just had a 5 days weekend. One of those days I woke up and decided I absolutely needed a cartonnage box for the cardboard and linocut piecepack I've been working on for quite some time.
I started drawing a plan with measures before breakfast, then decided to change some important details, restarted from scratch, did a quick dig through the bookbinding materials and settled on 2 mm cardboard for the structure, black fabric-like paper for the outside and a scrap of paper with a manuscript print for the inside.
Then we had the only day with no rain among the five, so some time was spent doing things outside, but on the next day I quickly finished two boxes, at two different heights.
The weather situation also meant that while I managed to take passable pictures of the first stages of the box making in natural light, the last few stages required some creative artificial lightning, even if it wasn't that late in the evening. I need to build1 myself a light box.
And then decided that since they are C6 sized, they also work well for postcards or for other A6 pieces of paper, so I will probably need to make another one when the piecepack set will be finally finished.
The original plan was to use a linocut of the piecepack suites as the front cover; I don't currently have one ready, but will make it while printing the rest of the piecepack set. One day :D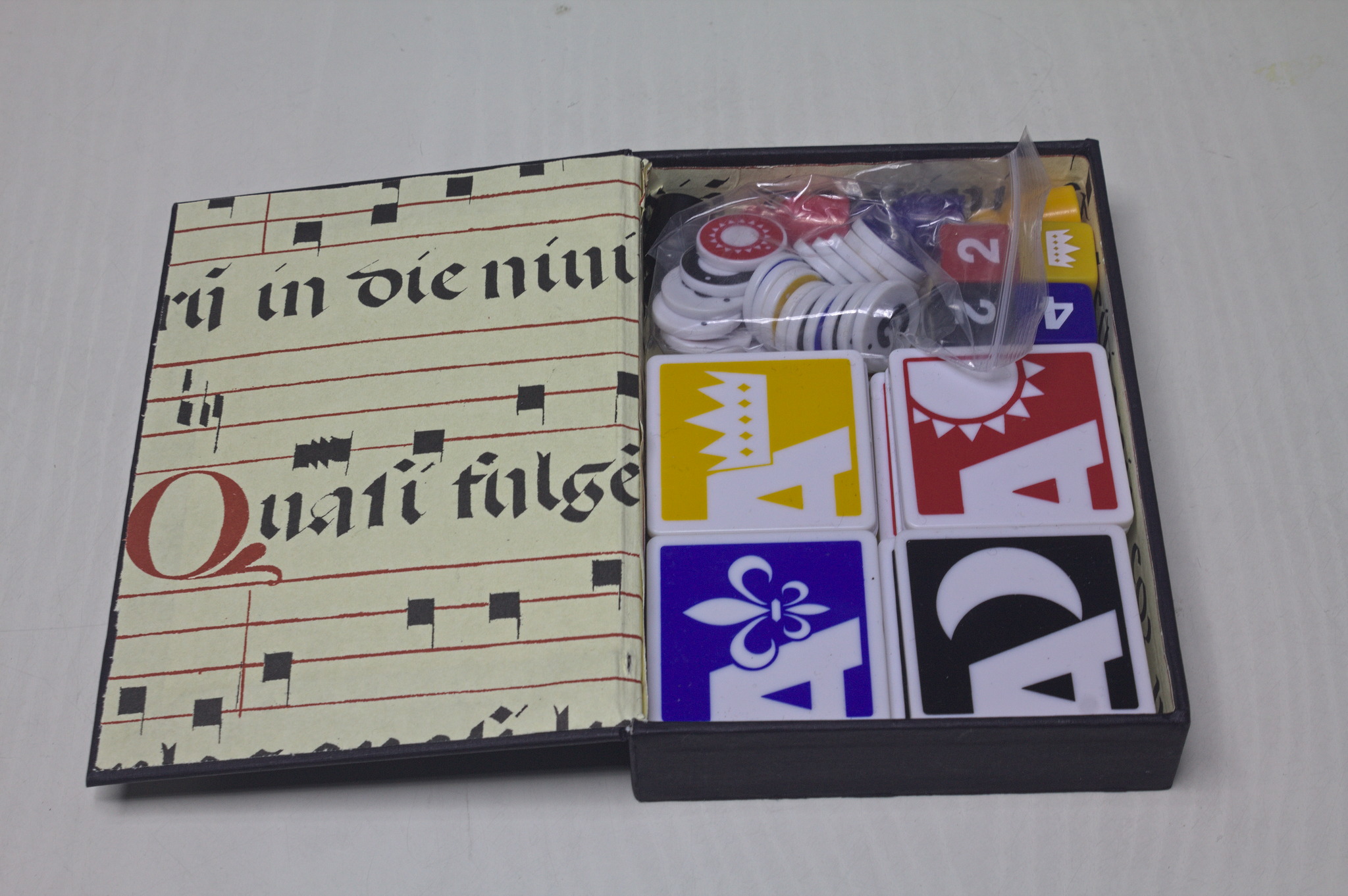 One of the boxes was temporarily used for the plastic piecepack I got with the book, and that one works well, but since it's a set with standard suites I think I will want to make another box, using some of the paper with fleur-de-lis that I saw in the stash.
I've also started to write detailed instructions: I will publish them as soon as they are ready, and then either update this post, or they will be mentioned in an additional post if I will have already made more boxes in the meanwhile.
---
you don't really expect me to buy one, right? :D↩︎